Why Algebra?
The Algebra 1 EOC is a graduation requirement for students enrolled in a public or charter school in Florida. Ms. Gurgan is a specialist who has worked closely with this class's curriculum for years and has had much success with her students passing this course and exam.
About Me
My name is Yasemin Gurgan; I attended a private school in Miami growing up, graduated from the University of Florida with a Bachelor's degree in Business Administration with a minor in Education, and eventually got my Masters from Nova Southeastern University in Educational Leadership. After teaching pre-algebra, algebra 1, algebra 2, and more for many years, I became (and currently am) a Curriculum Support Specialist for the Miami-Dade County School District, focusing on Algebra and Geometry. I have taught and tutored mathematics for the last 10+ years. My students and clients have always had success when working with me. My ability to thoroughly explain and simplify mathematical concepts leads to the ultimate success of all my students. I am currently focusing on tutoring algebra 1 as the EOC is coming up this May. With the "covid slide" and "summer slide" combined, your child may very well benefit from tutoring sessions with me. My promise is to thoroughly explain the mathematical concepts to your child in a way they will understand and remember when taking their assessments at school. These sessions will help increase their homework grade, confidence in math, understanding of algebra, and overall class performance. When it comes to the algebra EOC, I am highly qualified in preparing your child's readiness for the exam. Remember, students cannot graduate without passing this assessment if they are enrolled in a public or charter school in Florida.
Contact Miss G for Math Tutoring Today!
Fill out the form below or text me at 305-900-2136.
Start Improving Today!

Ms. Gurgan is an affordable, professional, and reliable tutor for students enrolled in algebra 1.
Ms. Gurgan has worked with hundreds of students in schools such as Mater Lakes Academy, Gulliver Preparatory, Palmer Trinity, Riviera Preparatory, South Miami Senior High, Coral Gables Senior High, Southwest Senior High, and more…
What to Expect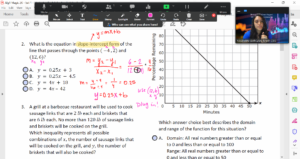 I will tutor you via zoom while annotating on the screen, provide you with clear concise steps to solve complex problems, and help you better understand the task at hand.
Students who are enrolled in private school, whom Ms. Gurgan has tutored, all increased their letter grade in the class and saw improvement on their assignments, assessments, and overall understanding of algebra.
Students who are enrolled in public schools or charter schools, whom Ms. Gurgan has tutored, all passed the Algebra 1 EOC, PERT, or any other necessary assessments- as well as increase their grade in the class.
Testimonial
Since I've started tutoring with Yasemin not only has it made math easier for me but my grades have also been improving. She is very good at explaining and shows many ways of doing each problem to better help each student learn the best way possible. She not only helps me understand individual problems but helps me grasp the concept as a whole. She is a very good tutor and I highly recommend taking classes with her if you are struggling in math.
Anya G.
- Student at Gulliver Prep